Overview
Launched in February 2000 by the American Legacy Foundation, truth® is the largest national youth smoking prevention campaign in the US and the only national prevention campaign not directed by the tobacco industry.
The objective of truth® is to change social norms and reduce youth smoking. All efforts are focused directly on teenagers aged 12 to 17.
The campaign exposes the tactics of the tobacco industry, the truth about addiction, and the health effects and social consequences of smoking — allowing teens to make informed choices about tobacco use by giving them the facts about the industry and its products. It is designed to engage teens by exposing Big Tobacco's marketing and manufacturing practices, as well as highlighting the toll of tobacco in relevant and innovative ways.
truth® is a multi-dimensional, constantly evolving campaign, featuring advertising; a website; social networking sites and interactive elements; events; and grassroots outreach through summer and autumn tours.
Results
In its first four years, truth® kept 450,000 young people from smoking and saved as much as U.S.$5.4 billion in medical care costs in its first two years. 
Getting Started
Young smokers in the US
Tobacco use is the leading preventable cause of death in the U.S.                                
About 80 per cent of smokers begin using tobacco before the age of 18 and one-third of teens who smoke will die prematurely from a tobacco-related disease. Each day, about 3800 kids try smoking for the first time. In 1991 alone, an estimated 255 million packs of cigarettes were sold illegally to minors, and in 1997 daily smokers aged 12 to 17 smoked approximately 924 million packs.
In 1997, cigarette use among teenagers had reached more than 36 per cent nationwide, an increase of one-third since 1991. Research showed that 70.2 per cent of high school teens had tried smoking and that 86 per cent of teen smokers routinely purchased one of the three most advertised tobacco brands: Marlboro, Newport and Camel.
Children and teenagers constitute the majority of all new smokers and the industry's advertising and promotional campaigns often have special appeal to these young people. Previous promotional efforts include discounting prices on cigarette brands most often used by adolescents, product placement in movies, development of non-tobacco product lines with company logos (like hats and t-shirts) and sponsorship of music concerts and other youth-focused events (WHO, 2008).
Tobacco Master Settlement Agreement (MSA)
The Tobacco Master Settlement Agreement (MSA) was an agreement entered into in November 1998 originally between the four largest US tobacco companies and the attorneys general of 46 states and five U.S. territories. 
Key clauses of the MSA:
Prohibits the marketing of cigarettes and other tobacco products to youth
Bans the use of all cartoon characters in the advertising, promotion, packaging and labelling of any tobacco product
Demands the companies to pay, in perpetuity, various annual payments to each state to compensate them for some of the medical costs of caring for persons with smoking-related illnesses
However, while this legislation was being discussed in Congress, some individual states began settling their litigation against the tobacco industry. In 1997, four states (Mississippi, Florida, Texas and Minnesota) settled with the companies before the MSA, recovering a total of more than $35 billion (McKay, 2001).
The American Legacy Foundation
The MSA also included an agreement to fund a national teen anti-smoking campaign under the auspices of a new non-profit corporation. The American Legacy Foundation was created in 1999 as a national public health foundation devoted to tobacco use prevention and education.
Florida's settlement
In August 1997, Florida's settlement with the tobacco companies totalled U.S.$11.3 billion, which later increased to U.S.$13.1 billion. Understanding the importance of prevention, the legislature and the late governor, Lawton Chiles, earmarked a portion of settlement funding for the creation of a dedicated anti-tobacco counter-marketing effort with the sole focus of reducing youth prevalence. The settlement included provisions for the funding of a 2-year U.S.$200 million youth anti-tobacco education and marketing programme (Hicks, 2001).
Operating out of the State's Office of Tobacco Control, the Florida Tobacco Pilot Program (FTTP) began to take shape in autumn 1997. A comprehensive review of previous anti-tobacco campaigns by the FTTP confirmed the presumption that past prevention strategies were ineffective and outdated and a new strategy was needed (Social Marketing Institute, 2011).
Target audience
In recognition of the fact that most smokers become addicted in their teens, the target audience for the campaign is youth aged 12 to 17.
Young adults aged 18 to 24 are a key secondary audience, as although they are of legal age and not protected by the MSA, they serve as important role models for youth.
Campaign goals
Reduce youth tobacco use by changing the attitude of Florida teens about tobacco and the tobacco industry
Reduce the availability of and youth access to tobacco products
Reduce youth exposure to second-hand smoke
Increase youth empowerment through community involvement
Scoping
Advertising agency Crispin Porter + Bogusky successfully pitched for the Florida State anti-smoking campaign aimed at teens. The team began by carrying out extensive scoping research:
Qualitative research
First they conducted qualitative research where members of the target market felt comfortable and likely to be uninhibited in giving their answers, such as skate parks and shopping malls. Interviewers used 'bad' language and related to the young adults on a peer-to-peer level. Trust was built in the information gathering stage that went well beyond any interaction in a focus group, which in turn led to real answers (Hicks, 2001).
Brand modelling
Through their work in other youth categories the Florida State Tobacco Control team along with the agency knew the important role brands play with youth. In a search to define one's identity, brands serve as a shorthand way for youth to identify themselves to the world. So rather than follow other public health media efforts, it made sense to deliver the launch just like other successful U.S. youth products, in a branded form they understood. So the Florida State Tobacco Control team along with their agency deconstructed and analysed successful new product launches to the teen market by Sega, Nintendo, Mountain Dew and youth fashion brands like Vans, Skechers, and JNCO (Hicks, 2001).
Literature review
The Florida team conducted a literature review of youth-focused tobacco prevention campaigns. They analysed and qualitatively tested the existing anti-tobacco strategies and creative execution in other states. They found little evidence that any had succeeded or could serve as models for the Florida effort.
One article, however, offered hope that communications that exposed how the tobacco industry manipulated people to entice them into smoking could be effective. The article showcased the state of California's ad campaign and how it used the tobacco industry's own messages and imagery to de-bunk commonly held perceptions about smoking.
Columbia Marketing Panel
In 1996, the Centers for Disease Control and Prevention (CDC) funded a panel of youth marketing experts convened by the Columbia University School of Public Health to identify three critical elements for a successful youth tobacco prevention media campaign:
Noting teens' extreme brand consciousness and the pervasiveness of tobacco brands, it recommended the creation of a teen-focused non-smoking (or counter-marketing) brand
It recognised that a teen-focused campaign must talk to teens in their own voice and not talk down to them
The panel recommended that the counter brand highlight the actions of the tobacco industry in marketing cigarettes, including its failures to be truthful about cigarettes' addictiveness and health effects
An online educational tool from the national truth® campaign
 These recommendations formed the intellectual foundations of the campaign and fed into the overall strategy (Allen et al, 2009).
Key insights
There was 100 per cent awareness that tobacco killed
Knowledge was not the problem. The research revealed that although teens were well-acquainted with the negative effects of tobacco use, they did not consider smoking a significant issue in the context of their lives (Hicks, 2001).
Tobacco was a tool of rebellion and individualism
Teenagers' reason for using tobacco had everything to do with emotion and nothing to do with rational decision making. Tobacco was a significant, visible and readily available way for youth to signal that they were in control. Like piercing an ear or dying hair, using tobacco was a tool of rebellion and all about sending a signal to the world that the user made decisions for him/herself (Hicks, 2001).
The fact that tobacco killed was the unique selling proposition for youth
While rather counterintuitive, what made tobacco so alluring to youth was its deadly qualities. Previous social marketing endeavours had promoted the message that tobacco kills. What they did not understand (and the tobacco industry did) was that they risked actually making tobacco that much more appealing to youth (Hicks, 2001).
 
''You didn't have to do too much research to find out that typical PSAs [public service announcements], with the 'say no' approach, would actually increase the prevalence of tobacco usage among teens because it makes [smoking] more alluring. Tobacco use is tied into rebellion. It would just make it more of a rebellious act.'' Alex Bogusky (Crispin Porter + Bogusky)
Youth want to make their own decisions
While they had varying points of view, there was consensus around their distaste for social marketing and anti-tobacco efforts that pass judgment on tobacco users. Across the board, youth emphasised that they did not want to be told what to do. They wanted "the facts" and then to be left to make their own educated decision.
Research indicated that a large number of teens thought that farmers made cigarettes; the campaign would seek to correct them of that notion, teach them how tobacco companies operated, and transform them into an army of teens demanding straight answers from big tobacco.
Exchange
In 1998, perceived benefits to smoking included looking older, cooler, sexier and more independent. It can be a way to fit in, but equally is associated with individual expression and being a rebel or a risk-taker.
The team – state tobacco control officials and their agency partners – realised they could not simply take away youth's tool of rebellion without giving them an alternative. By attacking the duplicity and manipulation of the tobacco industry the agency would channel teens' natural rebelliousness against tobacco companies.
Barriers to quitting smoking include peer pressure, addiction, stress and enjoyment.
Competition
The biggest competition is the tobacco industry, which the campaign terms 'Big Tobacco'. Among all U.S. manufacturers, the tobacco industry is one of the most intense in marketing its products, second only to the automobile industry. According to the Federal Trade Commission (FTC), as of 2010, the latest figures for tobacco-industry spending indicate that Big Tobacco spends approximately U.S.$8.5 billion annually making tobacco visible, accessible and desirable, especially to youth.
Even anti-smoking messages have historically been presented by Big Tobacco, though it has been found that exposure was associated with more positive attitudes towards the industry and increased intentions towards future smoking. Such ads suggested that smoking is for adults, not for kids. For the typical teen who cannot wait to grow up, the message failed to act as a deterrent (Allen et all, 2009).
"The tobacco industry had done an extremely good job of creating cool brands. To be successful, we needed to create a brand as strong and as powerful to take the place of tobacco brands." Neydy Gomez (Crispin Porter + Bogusky)
The 1998 strategy
To achieve the desired impact with teens, the campaign needed to:
Develop a strong counter-market brand
Expose the lies of the tobacco industry
Direct teens' need to rebel at the tobacco industry
Never preach – it needed a message other than 'don't'
Never condemn smokers
Relate to 'sensation-seeking' teens
Stress peer-to-peer communication, since teens do not like to be preached at or talked down to
 
From this emerged the campaign concept of a youth movement against tobacco companies, promoted through grassroots advocacy and a creative, youth-driven advertising campaign.
Behavioural and attitudinal goals
Expose youth to truth® messages and promote positive reactions to those messages
Change attitudes and beliefs towards tobacco use and the tobacco industry
Reduce tobacco use among youth
Development
The campaign pitched by Crispin Porter + Bogusky was initially called 'Rage' and in early 1998 the agency was hired to develop its pitch. At that time in Florida, about 18 per cent of Florida middle schoolers and 27.4 per cent of high schoolers smoked.
Teen Tobacco Summit
From the beginning, young people were to be involved in all aspects of the campaign. In March 1998, two months after being hired, the agency convened 600 middle and high school students to gain insight into where youth felt the effort should head and brainstorm approaches that would work with young people.
This effort resulted in three key outcomes:
Invigorated by what they had learned about the tobacco industry's false statements and manipulations, the student delegates voted to change the theme of the campaign to 'truth®', a generation united against tobacco'
The new truth® campaign also included the formation of a new youth anti-tobacco advocacy group called SWAT (Students Working Against Tobacco)
The creation of a youth sounding board, comprised of 45 representative teens who would give their input on everything from t-shirts to television ads
Through these annual summits and the creation of a youth board, youth became the client. Furthermore, Porter Novelli, a public relations (PR) agency, was hired to execute the campaign's local and national media relations programmes, as well as to oversee youth activism activities and assist the local grassroots activities of SWAT.
"Chiles encouraged the agencies to go even further on the edge. He had no nervousness about being too edgy or out there. He wanted to take on the industry and do whatever it would take to be effective." David Zucker (Porter Novelli)
truth® the brand
The FTPP and its marketing team established a plan to give the truth® campaign message maximum reach and visibility through a wide range of multimedia ads, teen events, merchandising and media outreach. The marketing plan also included using teen input in every phase of the development to add style and legitimacy and to empower the teen movement. With these efforts, they hoped to make the truth into a credible brand name easily recognised by the campaign's target audience (Schum et al, 2007).
Florida launch of truth®
In April 1998 Florida launched the state's U.S.$25 million truth® campaign, which included 33 television commercials, 7 billboards, 8 print ads and 4 posters. The ads depicted real teenagers' opinions on the tobacco industry, as well as them taking on the tobacco industry at the Teen Tobacco Summit and state-wide SWAT functions.
The launch of the campaign included the publication of a proprietary truth, tabloid style magazine that would be distributed in record stores and surf shops, a 10-city PR tour called 'The truth® train' and the production of a 'truth® truck', which became a fixture state-wide at concerts, beaches and raves (Social Marketing Institute, 2011).

The national truth® campaign reaches thousands of teens each summer with its grassroots tour
 SWAT
In August 1998 the FTPP launched the 'Reel truth', a programme designed to expose how the tobacco industry has permeated popular culture to manipulate society's attitude towards smoking, and to empower teens to combat it. The programme included a number of conferences and seminars and ran in conjunction with the truth® tour, which featured a 13-city train ride and concert series. Carried out by the marketing team through members of SWAT and with the help of celebrities and politicians, the Reel truth encouraged advocacy participation and petitioned the entertainment industry to portray smoking more accurately and de-normalise its use.
Each county had a SWAT to develop and implement local outreach and activities. In the first few years after the campaign began in 1998, more than 15,000 Florida teens joined the fight. They formed SWAT teams that visited grade schools and middle schools. They served on community groups that pushed for tougher regulations and discussed issues with legislators. Breaking with normal protocol, they also worked as advisers for a multimillion-dollar media blitz that included slick television commercials and eye-catching billboards, many with the slogan 'Our Brand Is Truth'.
 Putting equal emphasis on its advocacy campaign, the marketing team designed truth© branded merchandise, such as T-shirts and baseball caps which were distributed via the official truth® van at teen functions throughout the state. Other grassroots promotional efforts included truth® sponsored teen events and development of an FTPP website containing facts and statistics on tobacco, SWAT information and online advocacy activities (Schum et al, 2007).
"Once kids get the anti-industry perspective in the ads, the message is very effective." Dolly Yuen (SWAT)
Initial results
According to the Journal of the American Medical Association, smoking declined by 40 per cent among Florida middle school students and by 18 per cent among high school students in the first two years of the campaign.
Implementation
National truth campaign
In 2000, the newly created American Legacy Foundation expanded and extended the truth® campaign nationally, with funding from the MSA. Following the Florida model, the campaign used research with teen audiences, marketing and social science research, and lessons learned from the most successful anti-tobacco campaigns to inform its strategies. It also used actual tobacco industry documents that were made public after the MSA. The documents were used to find the facts teens would see in the ads and on the website.
Evaluation planning for national campaign
Baseline data was collected in 1999 and 2000 using this method:
Legacy Media Tracking Survey (LMTS) Legacy designed the LMTS to monitor youth exposure to the truth® campaign and the campaign's effect on tobacco use over time. For example, the LMTS measured campaign- targeted beliefs on tobacco and intentions to smoke. It was fielded using a periodic national telephone survey of young people, aged 12 to 24, using random-digit dialling to ensure representative sampling. 
National launch
For the national campaign, Crispin Porter + Bogusky teamed up with ad agency Arnold Worldwide – leading an alliance of agencies that would initially handle the account.
The campaign debuted in early 2000 and launched at a youth summit attended by 1,000 teens from across the country in Washington state. The first advertisement premiered during the Super Bowl that same year.
Two early television spots drew attention. In one ad, a woman enters Big Tobacco company Philip Morris's New York headquarters in an attempt to deliver a lie detector and get at the truth about nicotine addiction. The other spot featured real teenagers unloading body bags, also outside Philip Morris's New York headquarters.
Three other spots portrayed common consumer products, such as soda or athletic footwear, as if they were as dangerous as tobacco. Each relied on the same voice-over, saying, ''There is only one product that actually kills a third of the people who use it. Tobacco.''
Later in 2000, the campaign revisited the use of body bags in a series of five new commercials developed to break during the Sydney Summer 2000 Olympics. One of them spoofed the Marlboro Man by strapping a body bag onto a horse, which then rode off into the sunset as a teen yelled, ''Go be a cowboy.'' Another showed youth tossing body bags out of an airplane while shouting ''Hey, tobacco! Advertise this! . . .Taste the adventure.''
Image from the 2011 national truth® campaign, "Unsweetened truth®"
Grassroots movement
Building on the success of the first year, the marketers added an important element to the campaign in 2001, launching the Outbreak Tour, a counterpoint to how tobacco companies promoted their products. In 2000 the campaign toured 27 markets in six weeks to present the truth® message. The Outbreak Tour travelled with DJ turntables, video monitors and games, Internet access and lounge chairs, creating a unique "zone" where teens would naturally congregate. More importantly, the tour was staffed with "ambassadors," including a variety of trendsetters, with interests, from rapping and raving, to skateboarding, music and fashion design. Such "taste makers" appealed to teens, allowing the truth® crew to effectively carry important information to the target audience.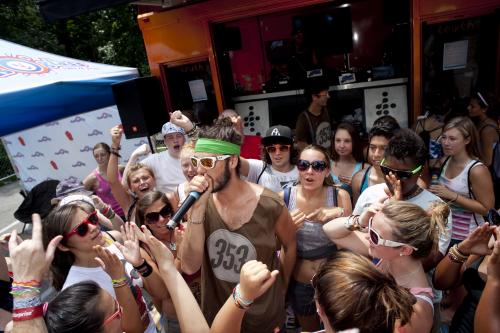 Image from the 2011 national truth® campaign, "Unsweetened truth®"
 Over the summer the tour hit more than 150 cities, visiting beaches, skate parks, concerts and anywhere else young people might congregate. The tour also attracted its own audience by staging concerts and martial arts demonstrations and hosting graffiti art galleries. The ambassadors handed out T-shirts, bandannas, hats and 'Infect truth®' viral kits containing stickers and stencils so teens could engage in their own guerrilla marketing efforts. In addition to the Outbreak Tour, grassroots marketing was encouraged by print ads with removable 'truth®' stencils that appeared in summer editions of such magazines as Mass Appeal, Snowboarder, Vibe and Teen People.
Print ad from the national truth® campaign
Stakeholder engagement
The truth®campaign focuses on a very specific target of teenagers: high-sensation seekers and those who are open-to-smoking. These teens are often characterised by rebellion, thrill seeking (i.e., extreme sports) and risky behaviour. This psychographic profile influences all aspects of their lifestyle. The campaign has to feel like it is being communicated from peer to peer in a rebellious way. The campaign exposes the tactics of the tobacco industry, the truth about addiction, and the health effects and social consequences of smoking – allowing teens to make their own informed choices about tobacco use by giving them the facts about the industry and its products. The truth® team believe if you tell a teen to not do something, they will go ahead and do it which is why they do not tell teens not to smoke. Instead, they provide facts and allow them to make their own decisions. Unfortunately, to be truly successful in reaching the most at risk teen audience they do not and cannot have truth® messages communicated by parents or teachers. 
The Foundation forges partnerships with government, corporations and other non-profit organisations to further extend the important, life-saving messages of the truth® campaign, and raise funds for the Foundation's important work. They developed and implemented a detailed communication plan to disseminate information to designated states concerning media delivery to generate local interest and support. This included a comprehensive outreach effort designed to ensure effective partnerships with tobacco control officials in state and local health departments.  Legacy assisted state and local health officials in gaining the skills and knowledge to effectively brief local media as well as to call attention for additional support; and motivate local media, retailers and community organisations to offer support. In the years since, the Foundation has also worked with states and localities to enhance their media campaigns by providing financial support to purchase media as well as allowing states to utilise truth®creative. 
Evaluation
truth® received immediate acclaim and was named Best Campaign of 2000 by AdWeek magazine.
''Approaching 'truth®' as a brand like Marlboro or Camel, the umbrella campaign is a guerrilla-style war that attacks on multiple, psychological levels and, literally, takes its message to the streets,''
AdWeek commented in an article accompanying the award citation:
By understanding its audience, truth® has been effective, not only in reaching high-sensation and open-to-smoking teens, but also in reducing youth smoking prevalence - AdWeek
 The American Journal of Preventive Medicine found that in its first four years alone, the national truth® campaign was directly responsible for preventing more than 450,000 adolescents from smoking, saving thousands from cancer and other diseases caused by tobacco.
American Journal of Public Health (February 2005)
The study found that 22 per cent of the overall decline in youth smoking during the first two years of the campaign (2000 to 2002) is directly attributable to truth®
This equates to 300,000 fewer youth smokers in 2002 as a result of the campaign
The study assessed whether there was a dose-response relationship between the level of exposure to the campaign and changes in youth smoking rates during this period. Results showed that youth who were exposed to a greater number of truth® ads or those who got a greater 'dose' of truth® were less likely to smoke
 
Institute of Medicine – May 2007
This major landmark report presented to Congress specifically mentions the truth® campaign and concludes that "a national, youth-oriented media campaign should be funded on an ongoing basis as a permanent component of the nation's strategy to reduce tobacco."
Monitoring the Future study – December 2008
This annual study measuring youth tobacco use rates found monthly smoking prevalence among youth to be at historically low levels. The study foundeighth- grade smoking rates down by two-thirds; tenth-graders by more than half; and twelfth-graders down by nearly half since peaks in the mid-90s
Monitoring the Future's press release cited the MSA's changes to cigarette advertising in the U.S., and '...the American Legacy Foundation, which has sponsored national anti-smoking ad campaigns aimed at youth in the years since' as factors in the decline
American Journal of Preventive Medicine (AJPM) – December 2010
Results showed that awareness of the truth® campaign reached as high as 68 per cent among young adults aged 18 to 24
There were also several statistically significant associations between anti-smoking attitudes and beliefs targeted by the truth® campaign and the intention not to smoke among non-smokers, as well as the intention to quit among smokers  
Return on investment
A study in February 2009 examined whether the economic investment in the truth® campaign was justifiable given its effect on public health outcomes. The study, called 'Cost-Utility Analysis of the truth® Campaign to Prevent Youth Smoking', conducted a cost-utility analysis of the truth® campaign between 2000 and 2002. The authors  found that truth® not only markedly improved the public's health but did so in an economically efficient manner, by recouping the costs of the campaign, and saving between U.S.$1.9 and U.S.$5.4 billion in medical care costs to society. 
The Citizens Commission to Protect the Truth believe that if the truth® campaign continues for another 5 years (2009 to 2014) with similar effectiveness, there will be up to 500,000 fewer youth smokers with savings of up to U.S.$9 billion in future medical costs. 
 "Ending smoking by American children and teens is crucial to the health and cost of healthcare to our nation. The truth® campaign provides a return on investment that would make the greediest corporate CEOs salivate. The truth® campaign is one of the most effective investments in the history of public health." Joseph A. Califano, Jr. (Commission Chairman and former US Secretary of Health, Education, and Welfare)
Follow Up
Currently, 80 per cent of smokers initiate smoking before age 18 and 90 per cent before age 20. Indeed, each day, more than 3800 youth try their first cigarettes. Reducing youth smoking initiation is essential keeping adult smoking prevalence rates down and sparing people the toll of addiction, healthcare costs and lost productivity.
Today, truth® is a multi-dimensional campaign involving:
Advertising (television, radio and print)
A website and interactive communications
Grassroots outreach through summer and fall tours
'Gear' – wearable and cool products like T-shirts, i-Pod socks and other items reflecting the brand and subtly raising attention to the tobacco issue
Earned media – an extensive media relations programme to place related stories in youth media, and raise attention in adult media to the issue and to the campaign's award-winning work  
 
Funding cuts
The national truth® campaign received its last major payment from the tobacco settlement in 2003.  The tobacco industry spends more than 22 million dollars each day on marketing efforts in the U.S. alone – more than the annual budget for truth® advertising.   
While the campaign faces an unprecedented funding challenge, Legacy staff and brand managers continue to evolve the campaign in even more efficient and cost-effective ways. Partnerships with like-minded brands extend the campaign's reach, as well as grant funds from such partners as the Centers for Disease Control and Prevention.
Partnering with the CDC
In 2006 the CDC partnered with the American Legacy Foundation to further extend the truth® campaign by reaching a broader range of youth, including young people in rural and surrounding smaller communities that typically have less exposure to the campaign because of low cable television penetration. To help reach these communities, the Foundation set up thetruth® or Consequences Youth Tobacco Prevention Grants Program.  The programme supports youth-focused, community-based tobacco use prevention efforts. Grants were awarded to 11 organisations located across eight states (Colorado, Idaho, Kansas, Maine, Montana, New Mexico, Oregon, and Washington).  The grants allowed community organisations to leverage the truth® media campaign in their areas by developing prevention projects relevant to 12- to 17-year-olds and engage and promote young people as agents of social change. Grantees designed and implemented the youth-driven projects, ensuring efforts were appropriate for their communities.
In 2011, the CDC awarded a grant to the truth® campaign to develop a mobile game to reach youth with an anti-tobacco message. The game, Flavor Monsters, launched in August 2012, was inspired by the fact that tobacco companies sell tobacco products in more than 45 candy flavors. The game was developed for iOS (iPhone, iPad and iPod Touch) and Google Play (Android) platforms. The game transports users into a not-too-distant future where "flavor monsters" are attacking Earth. To successfully complete each level of the game, players must fight off a vast wave of 1,200 Flavor Monsters. The number "1,200" is showcased to highlight the fact that 1,200 people die each day in the U.S. from tobacco-related diseases. By designing the "flavor monsters" as life-threatening attackers, players develop an understanding of the deadly nature of tobacco products.  To promote the game, truth® launched its first gaming tour which included a team of young adult truth ambassadors talking about tobacco and the game at key popular culture/gaming events across the country. A "45 Flavors" installation was created to transport attendees at these events to the Flavor Monsters world, in order to learn more about the monsters and demo the game. Visitors could see displays about tobacco ingredients, get their picture taken with a flavor monster, play Flavor Monsters on IPads, get Flavor Monsters related toys and gear, and take part in a virtual video simulation where it appeared participants were part of the actual Flavor Monsters game. Tour stops included: Gen Con in Indianapolis, Indiana; Dragon*Con in Atlanta, Georgia; and New York Comic Con in New York City, a show that attracts more than 100,000 visitors.
Lessons learned
Counter marketing the tobacco industry
The Florida Campaign was fortunate in that it had substantial money behind it. This meant that paid television advertising could form a core part of the outreach strategy. It also allowed the campaign to hire the best youth-focused creative agencies in the business so that the advertising was of the same quality as advertisements teens saw for other hip, youth-focused products. Moreover, the funding ensured that campaign advertising aired when youth were likely to see it, on the programmes they regularly watched and where other youth-focused products were advertised (Schum, 2007).
However, while the MSA has made progress in reducing explicit youth-targeted advertising, the overall expenditures of the tobacco industry for marketing and promotion of its products have risen dramatically. 
The tobacco industry continues to spend around U.S.$8.5 billion to market its products per year. This is about U.S.$22 million per day. truth® can never match that level of spending so strives to break through with innovative, radical messages and activities to reach its target audience. The tobacco industry spends in one day more than the truth® campaign spends in a year – a David and Goliath battle. 
Peer-to-peer communication
Youth were involved in tobacco summits where campaign plans were developed, participated in campaign review boards, and helped guide advertising creative development. At the time, this in and of itself was a breakthrough, and this youth-guided model has been adapted to varying degrees by other youth-focused social marketing campaigns.
But what is believed to be the true reason for the success of the truth® youth involvement model is what can be termed 'horizontal influence'. Teens themselves talked to each other about truth® and it became a true viral movement among them.
The professional products – advertising, media relations and events – were central to mobilising and focusing youth. But the core of truth® was that it was peer-to-peer. It simply provided facts and allowed teens to make their own informed decisions. It utilized the best communications vehicles available at the time to allow teens to communicate with each other. truth® gave teens the vernacular to use in talking about smoking in a way that was reflective of how they really felt, rather than in public health jargon (Schum, 2007).
Brand endorsement
Teens are notoriously brand loyal and brands serve an essential role for them, functioning as shorthand for qualities they want to project. Branding truth® was an important element of its success - for a highly visible counter-brand, holding the same brand iconography of rebellion and cool as smoking did hold a great deal of appeal for many teens. Moreover, truth® signalled additional brand values that smoking could never hope to hold, such as independence and understanding. The singular brand message had important marketing values, allowing the campaign to quickly build awareness and leveraging campaign dollars for maximum effect (Schum, 2007).
The Way Forward
With campaign funds in decline and the tobacco industry still spending more than $22 million dollars each day in the United States alone,  the truth® message continues to evolve in efficient and cost-effective ways. The growth of online media and digital content means truth® is increasingly building a presence in these areas. truth® also recognizes that teens gravitate toward certain "passion points" – including music, film, art, sports, fashion and gaming. truth® utilizes these "passion points" as a creative way and new channel to reach teens and engage them in ongoing conversations about tobacco. Beyond advertising, new truth® initiatives include video games, fashion partnerships to create custom clothing, more extensive grassroots touring and production of original digital content. 
truth® is constantly evaluating its campaigns to see how teens are responding to its message and approach. truth® has a long track record of innovation and creativity and will continue to experiment, monitor, assess the efficacy of new initiatives, and make changes to its approach as necessary to ensure the campaign stays relevant with young people and works effectively.
Acknowledgements – national truth® campaign
With special thanks to Patricia McLaughlin (Assistant Vice President of Communications, Legacy Foundation), who contributed to the content and development of this case study, regarding the national truth® campaign
Sources cited throughout include: truth® fact sheet and materials, courtesy of the Legacy Foundation; and the Legacy Foundation website www.legacyforhealth.org.
Florida truth references      
Allen, J.A. Vallone, D. Vargyas, D. and Healton, C.G., 2009. The truth Campaign: Using Countermarketing to Reduce Youth smoking. In: Healey, B. Zimmerman Jr., R.S., 2010. The New World of Health Promotion: New Programme Development, Implementation and Evaluation. Massachusetts. USA: Jones and Bartlett Publishers. Ch.10
Florida Department of Health., 2011. Bureau of Tobacco Prevention Program. Accessed March 2011. Available from: http://www.doh.state.fl.us/tobacco/tobacco_home.html
Hicks, J., 2001. The Strategy Behind Florida's "truth" Campaign. Tob Control, 10, pp.3-5. Accessed March 2011. Available from: http://tobaccocontrol.bmj.com/content/10/1/3.extract
McKay, W.H.K., 2001. Reaping the Tobacco Settlement Windfall: The viability of future settlement payment securitization as an option for state legislators. Alabama Law Review, 52(2), pp.705-722. Accessed July 2011. Available from: http://www.law.ua.edu/lawreview/articles/Volume%2052/Issue%202/McKay.pdf
Schum, C. Gould, R., 2007. The Birth of "truth" (and What It Tells Us About the Importance of Horizontal Influence). Cases in Public Health Communication and Marketing. Accessed March 2011. Available from: http://www.casesjournal.org/volume1/sponsored/cases_1_14.cfm.
Social Marketing Institute. Success Stories: Florida "truth" Campaign. Accessed March 2011. Available from: http://www.social-marketing.org/success/cs-floridatruth.html
Henry Kaiser Family Foundation., 2002. Telling the "truth" about Teen Smoking. Shouting to be Heard: Public Service Advertising in a New Media Age. Accessed March 2011. Available from: http://www.kff.org/
Woolston, C. 2011. Teen Crusaders: What does it take to keep kids from smoking. These youngsters may have the answer. Health Library Articles. Accessed March 2011. Available from: http://consumer.healthday.com/encyclopedia/article.asp?AID=645391
World Health Organisation. 2008. Break the Tobacco Marketing Net. Geneva: World Health Organisation. Accessed July 2011. Available from: http://extranet.who.int/iris/bitstream/123456789/564/1/9789241596824_eng.pdf
Key facts
Organisation
American Legacy Foundation